I was 14 years old when I went researching for ways to earn extra money from home, and I learnt of internet marketing.
It wasn't long before I decided this was the industry for me. Not just to earn some extra money on the side, but to build a proper full time career.
Was it easy? No!
After 3 years, what did I have to show for it?
Below is one of the monthly checks I received from one of my early internet marketing clients, which was an e-learning company. It's for $1,138 and dated 2014.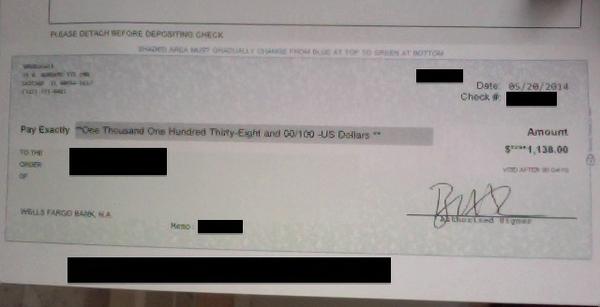 Nothing to sneeze at but not a whole lot of money either. Yes, it was a slow path to success for me.
So I'm uniquely placed to help new entrepreneurs like yourself break into this industry and get a foothold. I know what to do, but I also know what things NOT to do.
Because I've done a lot of those things!
You can learn from my mistakes, instead of your own.
Now, you're probably thinking:
This all sounds great, but I don't want to wait that long to start getting results!
No problem at all, because I've packaged up my best secrets into a system. It's exactly what I used to get my biggest results in internet marketing, and the easiest and fastest way for you to do the same.
My system, The Online Economy, is the easiest and fastest way to set up a healthy online business within just 6 months.
Here's how the system works.
Start by becoming an affiliate partner of an existing company. Then, market its products and services under your own brand with a combination of PPC, email, blogging, webinars and digital products.
That's the system in a nutshell.
It is my suggested course of action for setting up a healthy online business within just 6 months. I developed it based on my own experience.
If you want to take a different path – go right ahead! But if you're not sure what path to take, this course of action is what you're looking for.
I've given you a very broad overview of the system. But the finer details are reserved only for members of The Online Economy.
Inside the members area, we give you all the step-by-step training to set yourself up and start selling your products and services online.
To read more about The Online Economy, go to:
You may have one question.
Carlo, if you're advising me to become an affiliate partner of an existing company, then which company should I partner with?
If it's OK with you, I'm going to send you another email tomorrow to introduce you to my colleague.
He is an internet marketing expert who actually taught me much of the wisdom that I put into developing The Online Economy.
His multi-million dollar company is one of our recommendations for becoming an affiliate partner.
Even better, he is always looking for new affiliate partners!
So don't miss tomorrow's email!
Thanks
Carlo
Facebook: add me here
SMS: +61437340273